FREESOULS Captured and Released by JOI ITO has been published in two limited editions. A LUXURY BOXED SET with a hard-cover book (left) in an edition of 50 copies, and a LIMITED EDITION soft-cover book with a print run of 1024 copies.
The LUXURY BOXED SET includes a hard-cover book with a photo-print of Joi Ito affixed to the inner cover (shown); each book is hand-assembled and individually stamped 1-50 (click each image for detail). The LIMITED EDITION comprises a soft-cover book (with a dust-jacket) machine-numbered 1-1024.
Both editions contain 56 large portraits and 242 smaller portraits by Joi Ito: many friends and all members of a free society. The smaller portraits are grouped together in a series of 4-panel Z-folds (shown right). See who's in the book
The editions also include important new essays by Lawrence Lessig, Joi Ito, Howard Rheingold, Lawrence Liang, Cory Doctorow, Yochai Benkler, Isaac Mao and Marko Ahtisaari. Also included are 72 crowd-sourced definitions of what "A Freesoul is..."
The Large Portrait section is comprised of double-sided, folded sheets die cut to reveal the name on the inner fold. As an addendum, each book includes a blank model release.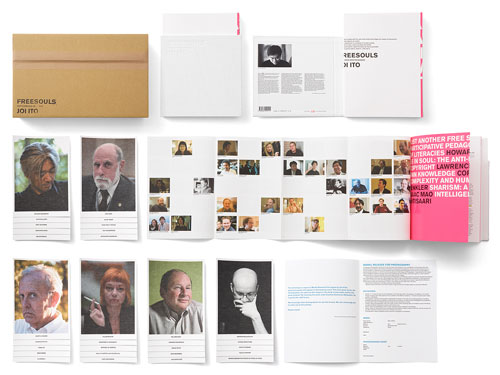 The LUXURY BOXED SET of Freesouls includes 1 (one) hard-cover hand-numbered book (shown here in 3 different views), 30 art-quality portraits and a Model Release. The LUXURY BOXED SET comes bound in a hand-assembled, hand-stamped box.
FREESOULS Captured and Released by JOI ITO is available from this website. ORDER NOW
Studio photographs on this page CC-by Min+ (敏佳)